CANCELLED
wire & Tube 2020 have been officially canceled because of the Covid-19
---
Baudrand New Tech at Wire 2020
December 7 – 11, 2020
Hall 16 – Stand 16H04
We will maintain a 150m² stand, similar to the one at the previous 2018 edition, but more spacious.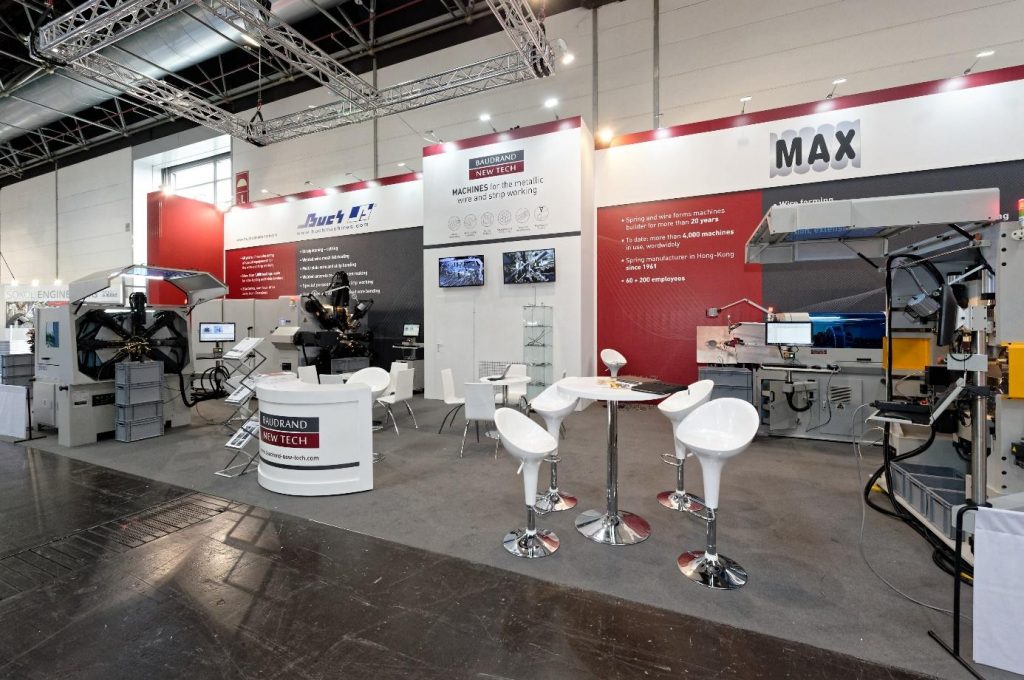 Our 2018 fair edition stand
We will exhibit 6 machines and several manual devices
as well as sub-assemblies that can be used as assistants:
RH 120
WB 100-8A

+

SWB

Click here for more details (WB 100-8A) / Click here for more details (SWB)
CR 23
JD 516

and

JD 560

Spring winders, ranging from 0.2-1.6mm and 2.0-6.0 mm. This equipment meets the main expectations of spring manufacturers: high quality equipment, very well finished, graphic touch screen, easy to use, very affordable price. Machines to discover imperatively. The JD 560 uses an integrated camera to check and adjust its settings.
CNC-feeder
Single axis feeding device. Fits easily on any other machine. Very easy to use and maintenance free. Very competitive price.
Fitting assistant
A pair of motorized feed rollers. To be fixed on an existing machine. It eliminates the tiring and dangerous maneuvers of introducing large sons.
Several miscellaneous equipment
To make spring hooks or to produce springs.
The majority of the products exhibited have never been presented at a trade show, the other equipment will be the result of developments in 2019.
We hope to have the pleasure of welcoming you to our stand.