Welding Machines for Mesh and Panels SM
These machines allow the production of mesh panels or fences in rolls, with equal or different pitches.
Machines feed and straighten wire directly from coil, as well for longitudinal and crosswires.
A wide variety of accessories is available for the manufacture of specific products, to avoid costly secondary operations:
Bending of V-shaped re-enforced meshes
Bending of cable trays
Corrugation of "Zigzag" separators
Fabrication of spacers
Re-cutting of panel ends
The production changeover time has been very carefully reduced to a minimum, thanks to the use of innovative, efficient and easy to implement mechanical devices.
Technical characteristics
Characteristics
SM-1200
T/5-100
SM-1800
T/5-100
SM-2500
T/5-100
SM-2500
T/10-100
Maximum panel dimensions
1200 x 3000
1800 x 3000
2500 x 4000
2500 x 4000
Max. nb. of longitudinal wires
20
20
20
40
Minimum pitch for longitudinal wires
25
25
50
50
Max. number of crosswires
∞
∞
∞
∞
Minimum pitch for crosswires
12
12
12
12
Wire diameters
1,5 – 5,0
1,5 – 5,0
2,0 – 8,0
2,0 – 8,0
Nb. of transformers
5
5
5
10
Each transformer's power (kVA)
100
100
100
100
Options
Mesh stacker
✓
✓
✓
✓
Mesh fliper
✓
✓
✓
✓
Bending for cable trays
✓
✓
–
–
Bending for panel fences
–
–
✓
✓
Welding of tubes on mobile fences
–
–
✓
✓
Motorized setting of straightening fingers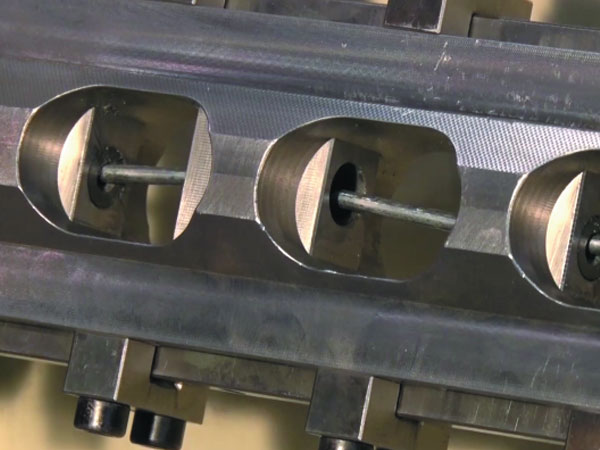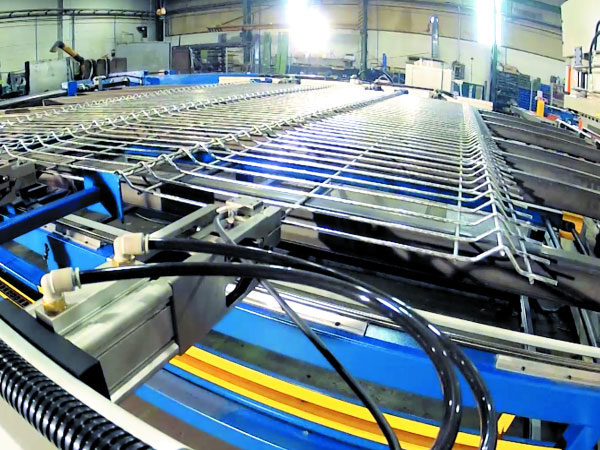 Sample of product, finished on the machine