CR 45 features an additive motorized feeding, which facilitates wire insertion through the mechanical components of the feeding system. They may also be fitted with an electric servo-cutter, in order to preserve the quill cutting edge.
It is possible to extend the operating range of CR 45 up to 5.0mm (thus, becoming 1.5 – 5.0mm).
Furthermore, it can carry a left/right sliding system for the coiling finger, which allows the operator to control and adjust the pre-tension for various coiling processes.
The machine is equipped with automatic OD control and correction, and, optionally, with a system to stop precisely the spinners upon touching the wire bent.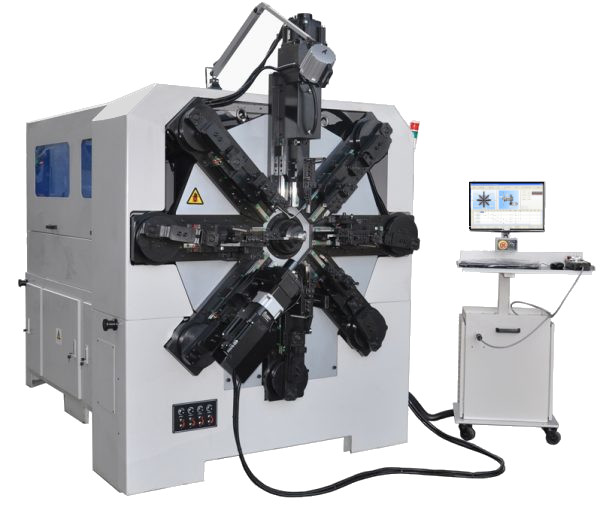 Secondary station (option)
This is an additional device, to be placed in front of the CR 45 (fixed to the frame). It can perform operations such as :
– Rotary milling (machine grooving inside the wire)
– Chamfering
If necessary, threading operations can be achieved on the main machine.
Technical characteristics
| | |
| --- | --- |
| Wire diameters | 1,5 – 4,5 (5,0) mm |
| Axes | 11 – 16 |
| Maximum wire feed speed | 71 m/mn |
| Slides stroke | 140 mm |
| Dimensions | 3,40 x 1,90 x 1,90 m |
| Weight | 4 200 kg |