The machines can be equipped with measuring gage, length correction and sorting of good and bad springs according to length criteria. The system could be internal or external, depending on the model.
The axes (independent movements) are the following: wire feeding – diameter, pitch and cutting cams. As an option, on some models, it is possible to have a 3rd axis, to separate the diameter and pitch, or a 4th axis, to separate the cutting as well. The customer chooses whether the 3rd axis is the pitch or the diameter.
The pitch is horizontal or vertical, at the operator's choice.
Some models are equipped, as an option, with a torsion spring manufacturing system, by the addition of a single coiling point, mounted on a slide whose up and down movement is controlled by a cam, itself mounted on an additional shaft.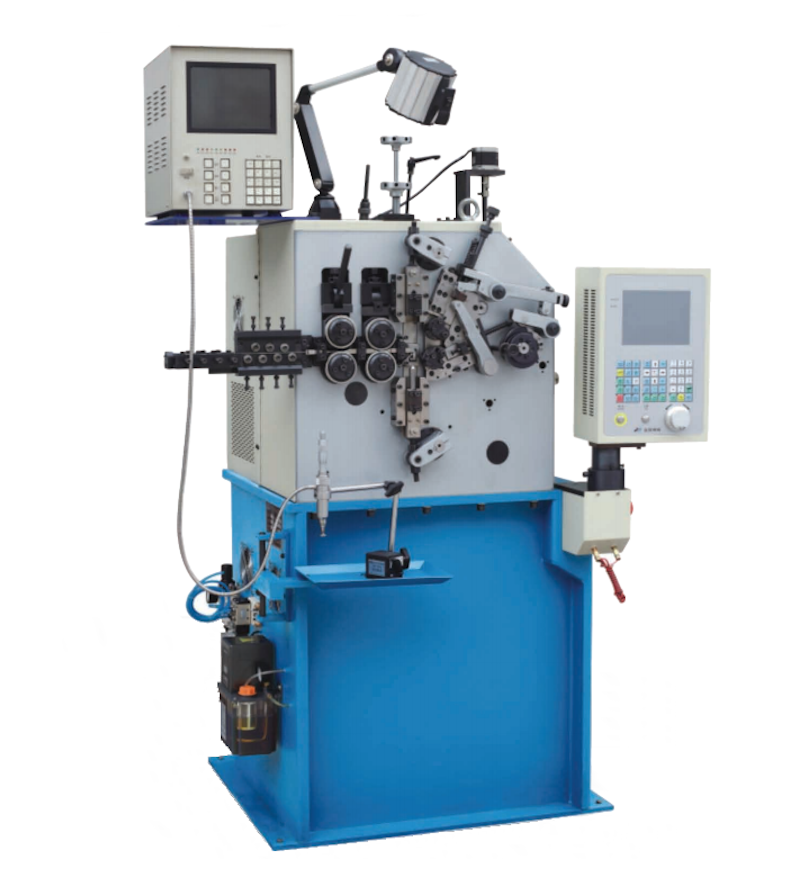 Technical characteristics
Model
JD 208
JD 212
JD 220
JD 320
JD 230
Capacity (mm)
0,1 – 0,8
0,2 – 1,2
0,4 – 2,0
0,4 – 2,0
0,8 – 3,0
Max. OD (mm)
20
25
45
45
50
Max. prod. rate (ppm)
550
300
250
250
200
Wire feeding motor (kW)
0.75
1.2
2.7
2.7
4.5
Number of axes
2
2
2
3
2
Axes
Feeding
Cycle shaft
Feeding
Cycle shaft
Feeding
Cycle shaft
Feeding
Cycle shaft
Pitch
Feeding
Cycle shaft
Torsion attachment
Option
Option
–
–
–
Weight (kg)
500
550
700
500
1 000
Size (cm)
80x65x145
80x65x145
85x75x145
80x65x145
105x90x160
Decoiler capacity (kg)
60
150
150
60
300
Model
JD 330
JD 430
JD 240
JD 340
JD 440
Capacity (mm)
0,8 – 3,0
0,8 – 3,0
1,2 – 4,0
1,2 – 4,0
1,2 – 4,0
Max. OD (mm)
50
50
70
70
70
Max. prod. rate (ppm)
200
200
150
150
150
Wire feeding motor (kW)
4.5
4.5
7.5
7.5
7.5
Number of axes
3
4
2
3
4
Axes
Feeding
Cycle shaft
Pitch
Feeding
Pitch
Diameter
Cutting
Feeding
Cycle shaft
Feeding
Cycle shaft
Pitch
Feeding
Pitch
Diameter
Cutting
Torsion attachment
–
–
–
–
–
Weight (kg)
550
1 000
1 600
700
1 600
Size (cm)
80x65x145
105x90x160
125x95x170
85x75x145
125x95x170
Decoiler capacity (kg)
150
300
300
150
300